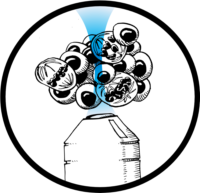 Workshop Imaging Organoids from the bench to the microscope
111
111 people viewed this event.
The first practical workshop « Imaging Organoids: from the bench to the microscope » will take place in Bordeaux, from Mon 27th Sept to Fri 1st Oct 2021.
The aim of this workshop encompasses most of the workflow steps from the 3D-sample preparation (organoids, spheroids, encapsulated 3D cultures), how to process them (histology, staining), how to mount them (for upright, inverted etc…), and finally how to image them with various microscopy techniques (from super resolution microscopies -liveSR or STED- to microscopies dedicated to thick samples (two-photon, ultramicroscope), from fast optical scanning spinning-disk to High Content Screening -HiTech and LowTech-).
TBM Core Facility, the BIC facility are hosting
This workshop is open to all, but seats will be limited!!
Registration is free but mandatory https://wkshpimageoids.sciencesconf.org/
Deadline: 6th Sept at noon.
4 keynote seminars
/!\ separated registration https://forms.gle/MCzBwgXds2HyExeZA

Xavier Trepat (IBEC, Barcelone)
Fanny Jaulin (Institut Gustave Roussy, Paris)
Laura Broutier (CRCL, Lyon)
Charlotte Rivière (ILM, Lyon)